Its been an intense week here in SoCal at HHI. Dancers from all over the world brought their A-game and have left their hearts out on that stage trying to take the Gold. And I'm just a fly-on-the-wall, watching and enjoying everything that's going on. Even if you're not a dancer, I would still encourage any fan of hip-hop to attend HHI at least once in their life. It's truly an amazing experience!
Don't forget to follow us on Instagram - BLOGGING BEST DANCE - and see the new friends I'm making and EXCLUSIVE video clips from the preliminaries and semi-finals rounds in all divisions.
Here are the results from the semi-finals:
Junior Division
1. ChapKIDZ - USA
2. Next Jr. - Japan
3. Bubblegum - New Zealand
4. Youngsters - Canada
5. Classic - USA
6. Khaos - New Zealand
Varsity Division
1. Legit Status - Philippines
2. Kana-Boon! - Japan
3. Sorority - New Zealand
4. JB Star Varsity - Japan
5. Brotherhood Varsity - Canada
6. Duchesses - New Zealand
7. Ill Habits - USA
Adult Division
1. Romancon - Philippines
2. The Bradas - New Zealand
3. Keraamika - Germany
4. Kings United - India
5. Brotherhood - Canada
6. 158 Crew - Russia
7. Prophecy - USA
8. Rockstars - Philippines
9. PNT - Canada
Megacrew Division
1. The Royal Family - New Zealand
2. Lock n LOL Crew - Korea
3. A Team - Philippines
4. La Salle Street Dance Co. - Philippines
5. Chapkis Dance Family - USA
6. Legit Status - Philippines
Scores and performance breakdowns can be found on the Hip-Hop International Facebook page.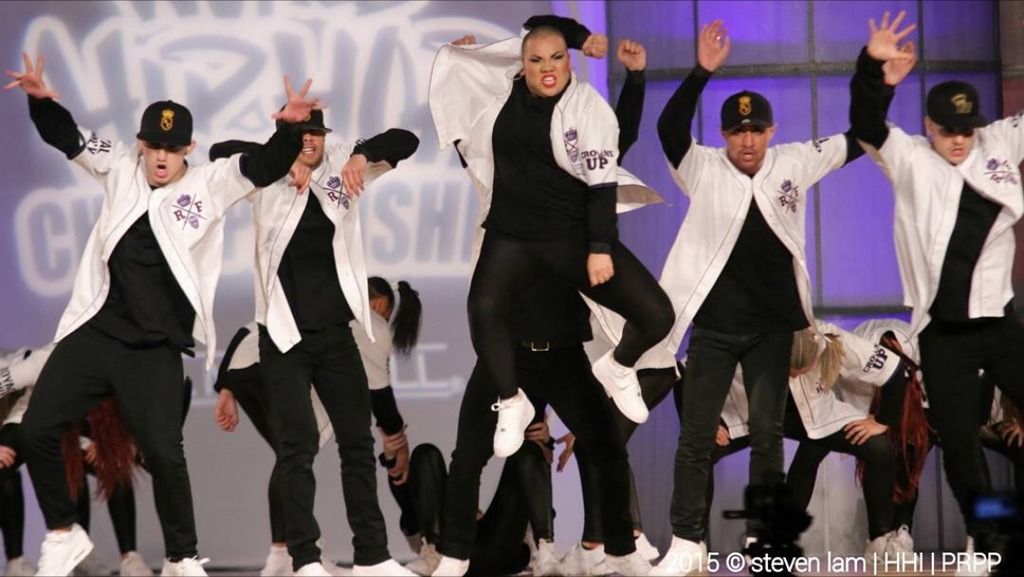 It should be noted there was quite a bit of controversy Friday night after the announcements of the Megacrew semi-final results. Many in attendance felt that Canada's DM Nation Megacrew should've placed higher than they did and should've been in the finals- especially coming from 2nd position with an absolutely STUNNING performance. As the final six crews were announced and presented, more than half the audience in attendance filled the arena with chants of "D!-M! D!-M!" and "C-A... N-A... D-A! WHAT?!" Needless to say, the judges had made their decision and it is what it is.
Tomorrow is the World Championships and will be LiveStreamed for absolutely free! We'll post a link for it later tonight.